Case IH
RB344 Fixed Chamber
Round Balers RB344 Series Fixed Chamber
Download the Brochure
Details
Round Balers RB344 Series Fixed Chamber
TWO MODELS – BALE DIMENSIONS 120×125 CM
The Case IH RB3 series comes with a straightforward conception: an economical solution for self-mechanised farmers searching for a reliable baler which is comfortable in all types of crops. Available in two versions, rotor cutter or rotor feeder, they are both equipped with a 2.0 m pick-up for a fast and efficient baling.
OUTSTANDINGLY QUICK AND INCREDIBLY EASY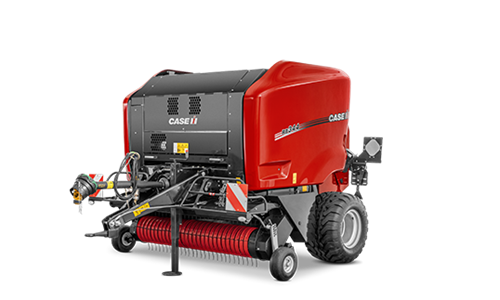 Simple design
Efficiently engineered throughout for high density bales even under the most challenging crop conditions.
Reliable and robust
High wear resistance and easy maintenance make RB344 balers sturdy and uncomplicated.
Easy to handle
Simple, intuitive operator terminal make the machine easy to control from the cab.
NEW – MODERN STYLING, FASTER MAINTENANCE
The new RB344 introduces the Case IH modern style with practical details. The reworked plastic side shielding with robust metal frame and easy-open locking mechanism speeds up daily maintenance and keeps the interior of the machine clean.
NET, TWINE OR FILM – YOU CHOOSE
Whether twine or net, you'll be sure to get well-wrapped bales time after time. The proven net wrapping system works reliably under all conditions and saves time: the wrapping process is fully automatic and takes only a few seconds. A maximum of six spools of twine helps ensure a full day's baling to keep you productive.